Highlighting collections related to disability and the archivists who work with them.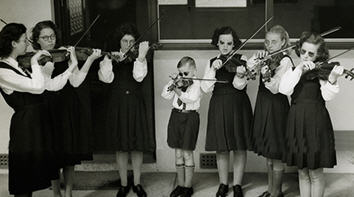 Disability History Museum
The Disability History Museum was founded in 2000. Its mission is to foster a deeper understanding about how changing cultural values, notions of identity, laws and policies have shaped and influenced the experience of people with disabilities, their families and their communities over time. The Disability History Museum is a born-digital project, with 2,500 plus primary sources available to the public. For more than 8 years, we've regularly teamed up with our regional partners to conduct a wide variety of professional development efforts targeting grades 9-14 faculty. These efforts help them introduce and integrate topics in disability history within US History, Government, and Civics coursework. The site has on average, 12,500 unique visitors monthly. This work is sponsored by Straight Ahead Pictures, a non-profit media company with the mission of fostering dialogue about social issues using the archives and historical scholarship. Since its founding in 1987, Straight Ahead's work has concentrated on questions of who is fit and who is not and how these categories have changed over time. We've produced a number of award winning projects in film, radio, and for the web. Our current effort is Becoming Helen Keller, a two-hour biography for the PBS series, American Masters. 
Source: The Disability History/Archives Consortium: A Portal to Disability History Collections White Paper